6 Steps To Build The Most Value, Trust & Have The Healthiest Dental Patient Ever!
BY Total Health Screens – 2 years ago
We all can agree that dentistry is still finding it's way after 16 months of being in an out of lockdown restrictions. Finally, dentistry is picking up – and reports are showing more patients are seeing private dental practice more than NHS practices here in the United Kingdom. We wanted to share how to offer each patient the best chance to live a health life and create the most value possible. Offering wellness solutions, preventative screens and the connection of oral and general health builds greater value and trust with your patients.
STEP- 1 CREATE A WELLNESS BALANCED LOUNGE AND PATIENT PORTAL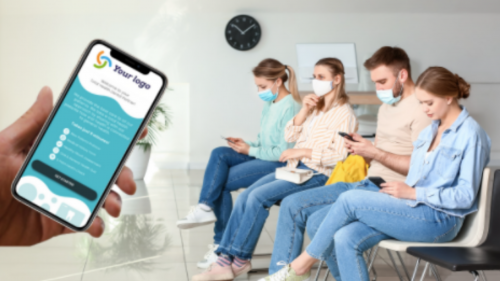 Are you easily educating your patients on oral and general health?
Before Covid-19 patients would wait in the lounge typically surrounded by Cosmopolitan, People magazine or any magazine that offered a view of what a 'beautiful smile' looks like. Although a great way to encourage beautiful smiles, it doesn't offer the full picture of a healthy mouth.
Offering literature and communications on how oral health is connected to overall health creates a greater context for patients to honour routine hygiene appointments. Cosmetic treatment isn't just about looks; it's about function and long-term care.

Besides linking oral and general health – 52% of the UK, 58% of the US and 78% of CA's population sees a dental professional each year. This patient flow offers a huge opportunity to present many health screens and reminders for patients to learn from. The good news is that the 'mouth is the gateway to the body' and is connected to many health conditions that people relate to.

Having a branded Patient Portal can combine all your patient requirements: medical history, Covid-19 protocol, healthy mouth assessment, health resources and how to book for a total health screen or treatment.
STEP- 2 ENGAGE PATIENTS USING THE MEDICAL HISTORY FORM
Are you truly discussing the medical history form?
We all know how dreadful asking the patient to complete a medical history form was. With Covid-19, patients are now required to complete these forms before arrival. Although it took a pandemic to get patients to comply, we now have a chance to use the medical history form to further engage with patients and see what their health status is during their visit.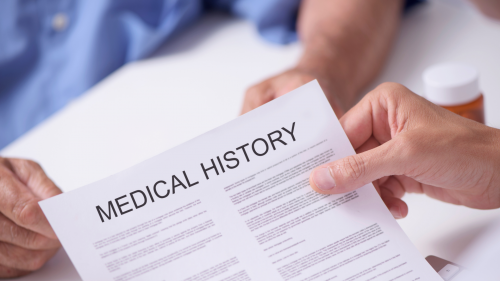 The medical history form can open conversation, connect oral and general health and offer a space to add questions like 'Do you know your healthy numbers (cholesterol & glucose)?' or 'Would you like to have a total health screen?'.
The medical history form can be used positively and doesn't have to be work for you or the patient.
STEP- 3 CONNECT THE DOTS DURING THE PATIENT CONSULTATION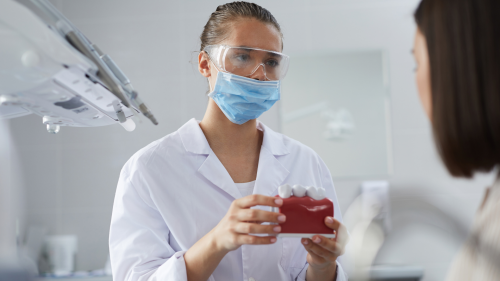 Do you connect the dots of oral health and your patient's needs?
Connecting the dots is so important for every aspect of the patient journey. Whether finding out what personally motivates a patient to want straight teeth or connecting how straight teeth can be great for maintaining a healthier mouth, will ultimately create great value for the patient.
Further connections can be made on how inflammation or gum disease can affect their overall health, especially if their medical history shows cardiovascular disease or diabetes. Making these connections will create more patient engagement as well as creating more value for patients.
A dental practice that offers a total health approach is less likely to be perceived as money driven and more likely to be trusted for other treatments beyond hygiene.
STEP- 4 PROVIDE A TOTAL HEALTH SCREEN
In under 5 mins, your patient can know their Lipid Cholesterol & Glucose results.
That's right – dental nurses, hygienists and even dentists are offering patients Total Health Screens and this process only takes minutes to perform.

Our individual health matters more than ever! Patients are very keen to sign up and pay for a simple, accurate Total Health Screen. These screens reinforce the oral and general health connection as well as provide peace of mind for patients and support them to live healthier lives.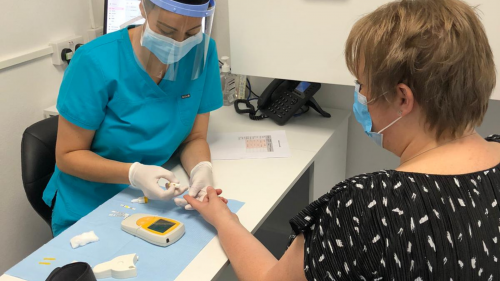 Patients want to know if the they have any underlying conditions as these conditions increase the effects of Covid-19 and even increase the risk of death.
STEP- 5 INTERDISCIPLINARY COLLABORATION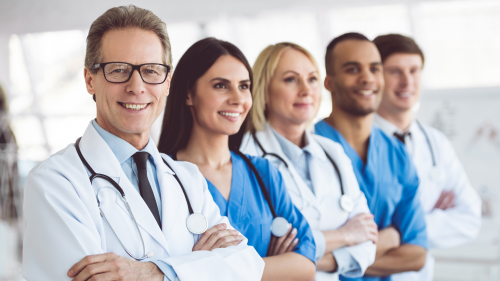 We must all work together to provide the best preventative care possible. Dentistry no longer needs to be sitting at the kiddy table of medicine. Dental professions see more patients and provide ongoing preventative care that involves diagnosing, treating and care management.
Besides referring a patient to their GP using NHSmail, dental teams can connect with healthcare providers, gyms and nutritionists when a patient's results fall out of range. This really supports the patient and develops a community relationship with your local healthcare providers.
Making connection with other healthcare providers will support attracting more new patients and brand your practice as one that looks after the total health of your patients. This collaboration contributes to patients' total wellbeing as well as contributes to your patient referral process.
STEP- 6 SCHEDULE A DEMONSTRATION CALL
Do you want to see a demonstration on how simple this all is?
Scheduling a demonstration call offers you some great insight to increasing team morale, patient engagement/satisfaction and how to implement a service that not only increases the growth of the practice but changes lives, healthcare and the future of dentistry.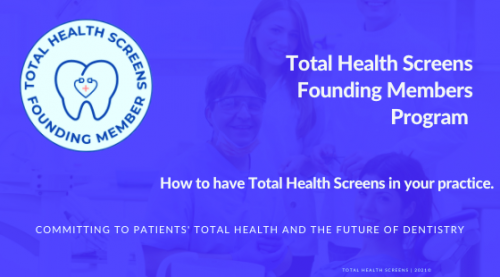 What you will learn?
How dental practices across the UK are implementing Total Health Screens
How this all fits right in with the existing patients journey or as a stand-alone service
What patients are saying about Total Health Screens
What components are needed
How Total Health Screens increase engagement and practice growth
Why this is the best time to offer total health screens