How Dentistry Can Innovate During Lockdown
BY Total Health Screens – 3 years ago
We want to continue to share our immense gratitude to all the frontline workers doing everything possible to keep us safe and healthy.
Covid-19 has exposed so many areas that need to change within our society and healthcare systems.
Innovating ourselves, our businesses and the way we think will 100% create a much better future for healthcare and for dentistry.
Reported in mid May, diabetes had been the most common pre-existing disease or illness found within people who have died in hospital from Covid-19. The NHS has revealed that 1 in 4 people who have died in hospital with Covid-19 also had diabetes.
A further analysis reported that dementia (18%), serious breathing problems (15%) and chronic kidney disease (14%) are other diseases related to hospital deaths of Covid -19. This also included 1 in 10 people suffering from ischaemic heart disease or narrowing of heart arteries. Type 2 Diabetes and heart disease can be prevented. We as healthcare providers can do our part by providing the best resources.
People will be thinking of their health and preventative measures more than ever. As will our healthcare industry. Covid-19 has exposed many areas of opportunity for change in our healthcare system.
How Dentistry Can Innovate During Lockdown
We all can agree that is an uncertain time as well as a very frustrating time.
That is why we need to keep moving forward and not get stuck waiting for things to change.
Use this time and the frustration to innovate yourself, your practice and how you will care for your patients moving forward.
Patients need to know that going to a dental practice is safe! Dental professionals are working to keep up with guidelines and predict what actions and supplies will be needed to support patients with dental procedures.
Innovate with Preventative Health Screens
While dentistry may take some time to fully offer all services, this is a great time to start including Oral + General Health education and total health screenings within your marketing and service platform. Offering total health screenings will allow dental practices the ability to support patients with their overall health, especially moving forward from the Covid-19 pandemic.
This type of innovation will positively impact lives, healthcare and dental industry.
Call All Your Patients
First and foremost you must reach out to all your patients.
Newsletters, social media and your marketing channels need to be filled with what you and your dental practice are doing to keep patients safe and how they can keep themselves safe. Keeping patients up-to-date with guidelines and communicating that you are creating the safest environment for your patients.
YES that means call ALL your patients and check in on them, have them complete any missing data such as email, medical history information and anything that helps you keep them informed. Updating your patients' medical history will identify which patients need support with with their overall healthcare.
During these calls you can share what other measures you might be taking to support patients and that you will be including preventative screenings to help with their total health needs.
Add Oral Systemic Education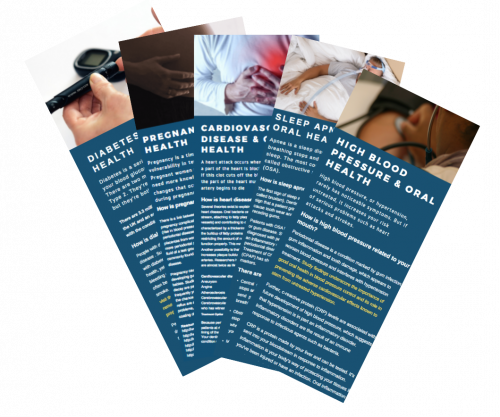 Add oral-systemic education showing how oral health impacts diabetes, heart disease, stroke, Alzheimer's and other diseases.
This is your chance to show how dentistry can do more!
Add a '5 Point Health Check'
Add 5 simple total health screenings to your service offerings and include these screening results within your patients' medical history information – this will greatly support patients with living a healthier life.
Blood Pressure, Body Mass Index, Waist to Hip Ratio, Glucose and Cholesterol are the 5 key numbers your can have as a baseline for your patients' health.
Give your patients the baseline for optimum health.
Learn More About Total Health Screens
Find out more about creating a patient journey that includes oral + general health education and preventative screenings.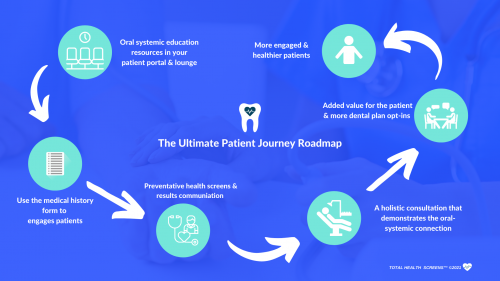 As the founder and director of Total Health Screens, I am connecting personally with practices across England to offer support at this challenging time. I hope that you, your families and your teams are all keeping well.
Before establishing Total Health Screens, I worked with practices in the US and the UK on marketing and business development, team motivation and culture. I am passionate about the power of dentistry to enhance people's lives and during this lockdown, it has been a pleasure to meet online with dental leaders to talk about the future of dentistry.
I have been sharing business knowledge and discussing how, in these unprecedented times, patients will be relying on dentistry more than ever to have a total health approach.
Our mission at Total Health Screens is to empower dental practices to show patients how oral health is connected to general health. This opens up a whole world of benefits for your patients, team and practice solvency.
This is an invitation to contact me directly if there is any aspect of your business you would like support with at this time. I want to help your dental practice find its way through this incredibly difficult time and thrive in the future.
With best regards,
Brian Anderson